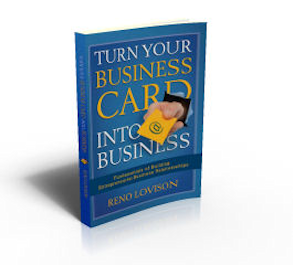 "This book shows you how to multiply your influence and sales with every contact;
Brian Tracy – Author – "The Way to Wealth"

Learn How To:
Refine communication;
Find and attract business allies;
Plant seeds that will grow your business;
Create and define a clear business mission;
Examine and improve the image you project;
Increase referrals and word-of-mouth recommendations;
Reach beyond the Internet and explore opportunities in 3D.
AVAILABLE AT AMAZON.com AS KINDLE DOWNLOAD
What Others Are Saying
With small businesses searching and spending in an effort to gain business,
here comes Reno Lovison with a whole book full of realistic, inexpensive, gems.
I'm trying to think of a better investment and I just can't. Good work Mr. Lovison!
Jay Conrad Levinson
The Father of Guerrilla Marketing
Author, "Guerrilla Marketing" series
Over 15 million sold; now in 46 languages
www.gmarketing.com
VistaPrint has sold business cards to more than 12 million small businesses and consumers and I would tell each one of them that this book is an absolute "must read."
Robert Keane, President & CEO, www.VistaPrint.com
"This book shows you how to
increase and multiply your influence and sales with every contact;
it can put you on the path to doubling your income!"
Brian Tracy – Author – "The Way to Wealth"
I was recently in Australia speaking to thousands and part of my presentation was
'business cards are like Gold' – Reno's work is right on and should be read
and taken to heart by all those who want to accelerate their success.
Tony Jeary
Coach to the World's Top CEOs & author of "Strategic Acceleration"
In this nifty book the author delivers exactly what he promises: a variety of strategies and techniques that enable you to get your precious business cards into the willing hands of your targeted potential prospects and that is no small feat!
Jeff Davidson,
Author of "The Complete Guide to Public Speaking"
founder, BreathingSpace.com
I started my first business when I was 15 years old and the
first thing I didwas buy business cards. I wish I had this book back then!
I think I would have had success sooner if I had used Reno's tips and techniques.
Tom Gosche
Executive Director, BNI Marketing & Contributing Author of Masters of Selling
I found that Turn Your Business Card Into Business had many useful ideas
for those new to the business world and veterans alike. Many of us need reminders
of some of the simplest but most effective marketing tools
and this book is one of those reminders.
Curt Richards, Managing Director
bCatalyst Advisors, LLC
www.bCatalyst.com
Turn Your Business Card Into Business – BUY NOW
This site is created by and affliated with RENOWEB.NET
ALL RIGHTS RESERVED Copyright 2009
Links: Guerilla Marketing – – VistaPrint – – BreathingSpace – – bCatalyst – –