As technology has advanced the variety of business card options at an affordable price has been rapidly expanding. Thirty years ago, four-color printing was reserved only for the largest or most creative companies who were willing to expend a sizable investment to make a colorful first impression. Over the past twenty years we saw that gap narrow considerably as desktop publishing and digital printing  became the industry standard. Now there was no need to set type, create film separations, and multiple printing plates that inflated costs which could only be marginally offset by larger print runs, which is now ancient history. Other popular add-ons in the realm of creative printing expression included full bleeds, embossing, foil stamping, die cuts, special coatings and of course specialty papers or substrates such as plastic or metal. The desire to make a meaningful or creative first impression with a beautifully produced business card has existed as long as the medium itself but was an elusive goal for the majority of businesses whose budget did not permit them to invest possibly thousands of dollars to that end.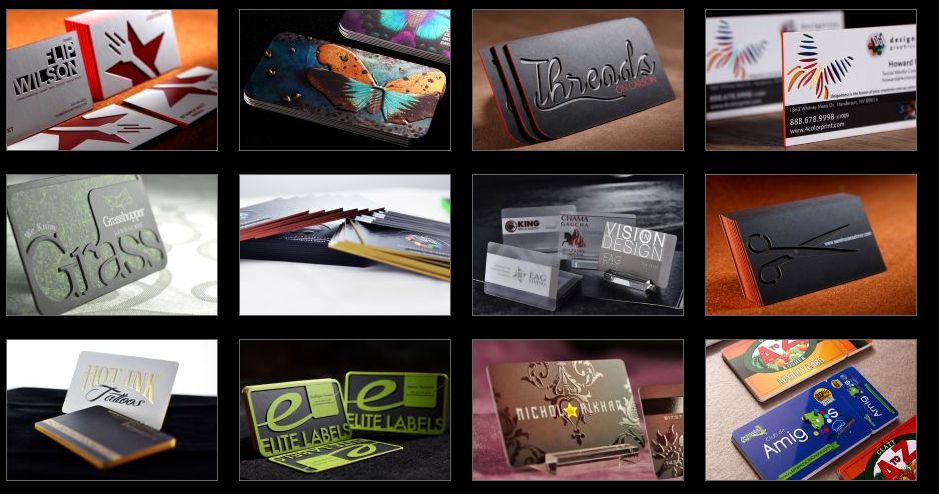 Recently I was sent a sample pack of outrageously beautiful cards produced by DGI – Designline Graphics, Inc. For the record I have no affiliation with the company other than their request that I examine and review their work. It is difficult for me to decide where to begin other than to say that from what I can see their four color printing is perfect in terms of registration and basic execution and the variety of additional printing techniques is limited only by the designer's imagination.
The printer's basic "silk card" utilizes a special laminated coating that gives it a very smooth or "silky" feel that is water and tear resistant. If this were their only product the company would stand out as unique. The "Silkcards X" is double the thickness and includes a die cut or perforation option that adds a visual and further tactile dimension to your card.  Add foil to make it shine and you will have a card the really stands out from the crowd.
Of course I am not a believer in creativity just for the sake of being creative but I do believe in making a statement that reflects your image, reinforces your message and will help you make a favorable impression. You should begin with that in mind then see which printing processes help you achieve your goals.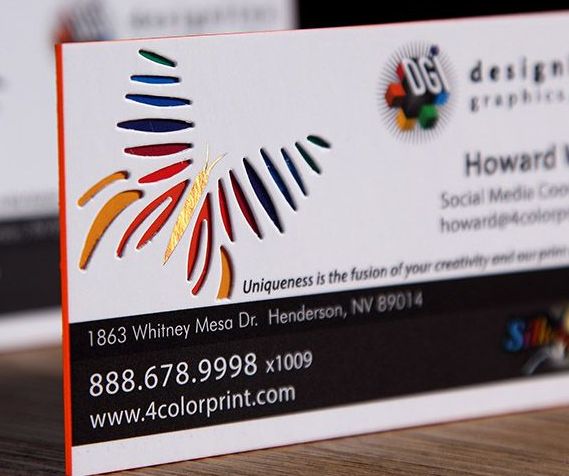 DGI's own card skillfully and tastefully incorporates a number of techniques that serves to showcase their skills and abilities including very tight registration; tone-on-tone printing; double thick laminated stock with a multicolor "see through" die cut; edge printing; embossing; and their signature silk finish. It's a card that makes you want to think about how you can express your own message in a more creative manner.
Another end goal of an effective business card is to create a card that is not only a visual expression of your company but is something that people want to keep. The side effect of a well designed card is that people will "value" a beautiful business card because they appreciate the effort you have expended. If it is really nice they might even be compelled to show it off to others and thus carry your message even further.
As so much of our marketing media today is virtual and ephemeral by design, we might reexamine well produced business cards as a rare commodity designed to be retained and to some degree treasured.  Perhaps it is time to consider that we need to put in more effort. Where as a a typical business card might hover around five to ten cents and basically declares " I expect that you will discard this sometime soon." What if you were to spend twenty or thirty cents per card but in return made the statement " I want to give you something that reflects quality" and says, "I intend for you to keep this." After all for many virtual companies today this is your front door. This is a statement of who you are and it is a memento of a personal interaction.
Investigate the possibilities at Designline Graphics, Inc.
Quality Business Cards Express Value