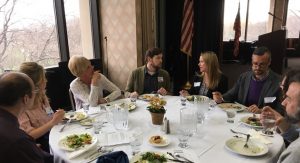 As part of my challenge to make 100 new business contacts in 100 days, I attended a Chicago multi-chamber, speed networking event organized by several chambers of commerce on the far northside of Chicago. Held at The Breakers Senior Living Apartments on Sheridan Road near Foster, the event is organized much like speed dating. In this case you spend a few minutes at a table with about six or seven other individuals. Each person gets a chance to give his or her his or her "elevator pitch" saying who they are and what they do. My current pitch goes like this, "How would you like to succinctly tell your web visitors who you are what you do and why they should do it with you? My name is Reno Lovison and I produce web video." Each person takes a turn, and in about 5 minutes the whole table has introduced themselves.  This then proceeds with another two rounds of each person commenting on a topic or giving their answer to a few other questions. When the process is completed each person has learned a little about each other and is then assigned a new table where the process is repeated. Then one more time at another table. So in the space of about 30-40 minutes I was able to introduce myself and get introduced to about 20 new contacts and get reacquainted with a few people I already knew. After which each person settles at a table of their choice and enjoys open networking and a buffet lunch.
The criteria for my challenge of meeting 100 new business contacts in 100 days is that I must have some understanding of what business or service my new contact offers and they must understand the same about me and we must trade contact information and do a follow up via LinkedIn or email. So these 20 new contacts definitely count.
Here are some of the people I met.
The first person I spoke with when I arrived was mortgage broker Demos Revelis.
Dorothy Rosen, Health & Wealth Executive is also involved in promoting women in business.
Patrick Honan is an account executive for one of my favorite radio stations WBEZ 91.5 in Chicago.
Andre Vasquez is a community organizer and political commentator based in the 40th Ward looking to expand political discourse.
I had lunch with Evan Wilson who can help you or your organization optimize processes, and unify your team toward a common goal.
John Victor is a business rep for Ignition Switch Productions who also does video production. Whereas I produce video at an affordable price point for small businesses and organizations, Ignition seems geared more toward larger brands and more robust budgets.
David Schellinger of lower case productions provides graphic communications.
I was happy to meet Nicole Hanna, Director of Sales for Hampton Inn at Loyola in Rogers Park because there are so few good branded hotel options on the far northside to recommend to visitors and business travelers.
Marc Hertz of More Than Noise Marketing provides marketing and content creation assistance to small businesses.
Got a business event, wedding or party to organize? Emmanuelle Escandar can help you get it planned.
Laura Bare of Waddle Reed and Alan Rodriguez of American Trust are both available to help with money matters.
Kelvin Udogu, Pharm.D. recently opened a new independent pharmacy at 6237 N. Clark Street. Stop by!
Tony Paolella will get you connected with the right people if you are looking for B2B leads for your business.
Are you a solopreneur or independent service provider looking for feedback and support? Michael Shapiro can help you get involved with a peer group to help you get the insight you need to overcome business issues and grow your business or practice.
Annette Murray of Bethany Retirement Community is looking to connect with anyone who has senior housing needs or interacts with those who do.
Maike's Marvels creates and sells beautiful handmade personal adornments and object d'art
Contact Jackie Marchand Heller if you have gently used women's clothing including maternity wear suitable for re-sale at Revive Consignment 1606 W. Pratt.
There were about 75 people in attendance including my friend Donna Smith-Bellinger, the Revenue Accelerator, accountant John Jones, Real Estate experts Ellen Baren of @properties and my good buddy Bernie Small of 4 Sale Realty. Bernie and John have joined me and about 15 others in the 100 Day Challenge.
If you need to contact any of these folks let me know and I'll get you connected. I hope this quick overview will inspire you to re-connect with some people you have been neglecting or get out of your comfort zone and expand your personal or business network. Hey, and don't forget your business cards!
---
FYI this is by business networking blog. To learn more about my video production services visit RenoWeb.net. – Reno Lovison. 
If you enjoyed this be sure to push it along by sharing via one or more of the social media icons below. 
Wow! What A Great Event | Speed Networking Chicago Chamber of Commerce