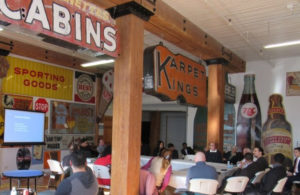 In an effort to mix things up a bit I suggested that our business networking group join in this month with a meeting being promoted at 32 Squared shared office complex in Bridgeport on Chicago's near south side.
The topic of the meeting was Equity Crowdfunding which is an investment and funding alternative that offers small investors an opportunity to make minimal investments in new or growing companies.
This funding option likewise provides new business ventures access to investment capital while in the nascent stage of their enterprise.
Unlike traditional crowdfunding platforms like Kickstarter or GoFundMe which solicit donations, sometimes in exchange for gifts or access to advance purchase of products or services; Equity Crowdfunding actually offers investors an equity position in the company in exchange for their money.
So Equity Crowdfunding is an investment venture that includes all of the risks associated with investing as well as the potential promise of returning a monetary return over time.
The program was presented by Florence Hardy of truCrowd which provides an online platform as well as the necessary brokering expertise to facilitate the sale and purchase of these investments.
The meeting was hosted by Andrew Fogaty the Director of the facility who provided a tour as well as a light lunch of Little Ceasar's Pizza partly provided by UPS who shares space in the building.
To learn more about Equity Crowdfunding, shared office opportunities or our monthly networking meeting click on the appropriate links above.
Succeess in business requires continual education and the expansion of your sphere of influence through networking.