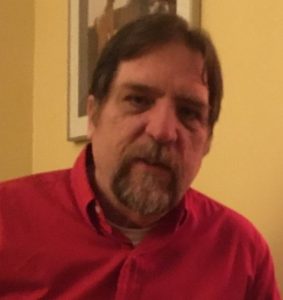 My celebration of  International Women's Day began by wearing my favorite red shirt in solidarity with my wife Julie Lovison who has been the owner of a woman owned business for over 25 years. She is the Director of The Lake Shore Music Studio providing piano lessons for all ages in Chicago's Gold Coast neighborhood.  The celebration continued by attending the Chicago Gay & Gay Friendly Business Referral Network's "Business Lunch & Learn" coordinated by my friend Cindy Weigel co-owner of Roxy Insurance. Cindy was unfortunately "under the weather" (get well soon) so the meeting was capably hosted by  Shae Lewis co-founder of Mission 2 Organize.
We were asked to say something in support of International Women's Day. Since this is a Gay & Gay Friendly Group Meetup I must give the quote of the day to one fellow (sorry did not get his name) who said, "I love women – – I just do not LOVE women."
My wife was surprised when I told her that as part of my comment I proclaimed her to be my "Entrepreneurial Hero." The reason for this is because she has accomplished what nearly every entrepreneur hopes to do. She has created a successful business that has allows her to make a living doing something she loves to do. Not only that, she has built a lasting relationship with her clients that keeps them as repeat customers, and she is able to fill the majority of her new business requirements through referrals. She has a clear message with a clear value proposition. She does one thing and she does it well. Brava!
The speaker for the lunch an learn was Sue Reddel – Media & Marketing Consulting who shared ideas and tips related to social media marketing. Jim Spangler had his card drawn at the previous meeting which allowed him the opportunity to provide a five minute "shameless self-promotion" of his enterprise which is as an Independent Consultant for Arbonne. Jim did a great job providing an overview of the company and their features as a "green" manufacturer providing safe environmentally friendly personal care products. I also learned in my conversation with Jim that he is an actor who will be appearing soon in the musical "Gypsy."
My other significant new contact of the day was with Kirsten Ramos, President of Elevate Performance Solutions, Inc. who provides personal communication coaching for leaders looking to be more effective and others who just have issues when it comes to presenting themselves to a group or even in one-on-one situations. Kirsten presented herself very professionally and thematically attired in a bright red sweater. I look forward to learning more about her services.
I was happy to see my friend Mark Hurwich who coaches individuals who have become "stuck" and feel as though they are not enjoying the success they should be having, or are just feeling powerless and having trouble getting past a difficult place in their life.  Mark can help you "Reconnect to Your Core Intention" to get unstuck. He has an seminar that you can learn more about at Concentrated Coaching.
Also in attendance was funeral officiant Margurite O'Connor and my buddy, realtor Bernie Small. I thought I would use this opportunity to revive a video clip I took of them a few years ago. Bernie is participating in my challenge to meet 100 new people in 100 days. This meeting is day 48 of the challenge and I'm at about 59 people so still a bit ahead of the average.
International Women's Day