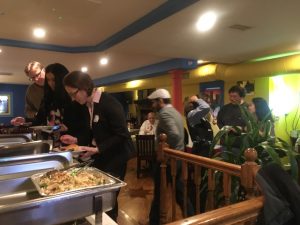 This is the first meeting I attended as a member of the Lincoln Bend Chamber of Commerce near my home on the far northside of Chicago. The meeting conducted by Executive Director Mimi Acciari was held at Sunset Pho a seafood bar & grill across the street from the new nature center adjacent to Rosehill Cemetery on Western Avenue. The restaurant offers a fusion of delicious Croatian and Vietnamese cuisine.  As a video and digital communications specialist I spoke with owners Zel and Ngoc Stakic about helping them turn one of their many TV screens into a digital display featuring photos and videos of their dishes as well as periodic specials and event information.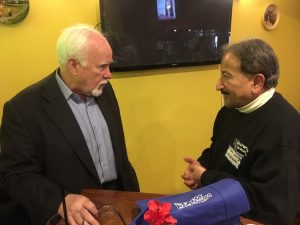 The meeting featured remarks by the area Alderman Patrick O'Connor and 20th District Police Commander Sean Loughran who gave a kind of "State of the Neighborhood Address" from a business point-of-view. The good news is that this is perhaps the quietest neighborhood in the city as it relates to police calls and crime. Shhhh! Don't tell anyone. But they both cautioned that the news was not a cause for complacency. "Area businesses are on the front line when it comes to noticing potential issues," said Commander Loughran. The take-away message was, "If you see something – – say something." Don't be shy about reporting situations that look dangerous or out of place.
The meeting gave me the chance to say hello and get reacquainted with a few people I have met before, notably Joe from Hollywood Auto and Ivan from VPT Restaurant.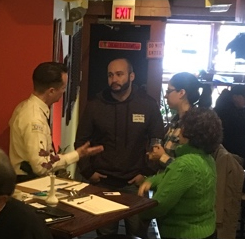 My lunch companions were Georgina, Byline Bank Branch Manager at Budlong Woods/Bowmanville Branch on Western who introduced me to her compatriot Vicki Bittar, Byline Branch Manager from the 2935 West Peterson Avenue branch. I had a chance to say hello to chiropractic physician, Ifeoma Okorafor and spoke briefly with Laura Roth, Director of Development and Communications at Friedman Place, a Community for Adults Who Are Blind or Visually Impaired.  As a former president of the Chicago Uptown Lions Club I have had a lot of experience working with issues related to individuals with visual challenges.  Laura tells me that Friedman Place will be holding an open house and fundraiser very soon and also plans to host an upcoming chamber meeting providing an opportunity for the business community to experience firsthand what the facility has to offer their residents. Others in attendance were the family that operates Latin Bliss located near Friedman Place at "the bend" on Lincoln Avenue.
On my way out I had a chance to speak with Tom Stark, Manager of the Budlong Woods Branch of the Chicago Public Library. He and I initiated plans to offer a panel discussion related to non-fiction book writing presented by members of Midwest Writers Association of which I am outreach chairman. Look for details of that event coming soon.
Thanks to everyone for a warm welcome as I look forward to meeting the other members and learning more about area businesses.
________________
Reno Lovison provides marketing and business video production services at RenoWeb.net
Lincoln Bend Chamber Meeting at Sunset Pho Chicago Northside