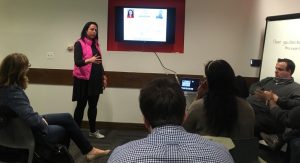 One of the primary objectives of my challenge to meet 100 new people in 100 days is to use the challenge as motivation to get out of my comfort zone and take action. Last night around 5:00 PM I realized I had to pick my wife up from her studio at around 9:00, so I had several hours of productive time to fill. Well there is always computer related stuff, but the "challenge" made me consider if there may be some last minute meeting or event I might attend, so I logged on to Eventbrite.com to see. Choosing the option "events today" I soon spotted a Blogger Meeting being hosted by Scott Winterroth, co-founder of ContentAcademy.com whom I know from Chicago Northside WordPress Meetup group where in  fact he was the presenter at last month's meeting.
The group's Eventbrite descriptions says "Bloggers Meet Startups" is a fun and collaborative way for Chicago bloggers, content creators and social media mavens to interact and network with startups founders."  It began at 6:00 at State Farm's "Next Door Chicago" community meeting facility on Diversey just west of Clark Street, which was on my way to where I needed to be and perfect for me.
The key presenters were Michelle Smyth Founder & CEO of Pay Your Selfie, Inc., a mobile research company with a patent-pending survey method blending human intelligence with image analysis for consumer lifestyle insights. In short (as I understand it) her app facilitates users' ability to interact with brands via "selfie" photo surveys, which are both fun and revealing, ultimately providing useful data analysis based on visual data.
Dr. Vanessa Cutler presented info on her new app emotilink that provides an on-demand real time communication solution connecting licensed mental health care providers with users over a mobile platform. In addition to providing users with an anonymous solution to an often stigma-laden service, emotilink allows providers to regain autonomy of care and develop a practice on their own terms. Currently available for iOS search the appstore for emotilink.
I also had the pleasure to connect personally with Thet Soe the owner of a mobile app called DineHero which is predicated on the idea that there is no reason to dine alone. The app allows users to meet with each other at local food establishment for the purpose of networking with individuals who may share common interests or business pursuits. I recently received a virtual introduction to Thet from fellow challenge participant John Jones, so it was nice to meet in-person. Maybe I'll write a review of the app from a networking point-of-view once I get a chance to use it a few times.
Also on hand was Cenk Yurtbilir of Cognata Technologies and developer of an app called Cooper Consultant that matches users with various kinds of consultants in their area. I just downloaded it to my iPhone and it looks interesting though still in its nascent stage. If you're inclined to be an early adopter or a consultant looking to be in on the ground floor, check it out now.
This was day 49 of the challenge and these new contacts brought me up to a total of 63 new people who I look forward to learning more about and having as part of my business network. Be sure to check back and see how my adventure is progressing. Don't forget to bring a few business cards wherever you go. You never know who you might meet.
Networking with new mobile app developers in Chicago.