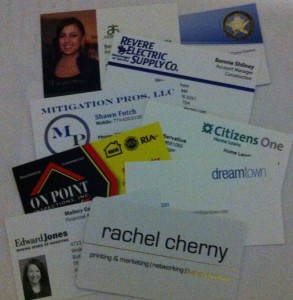 Here are business cards from a few of the people I met who are involved in organizing a new BNI networking chapter in the Roscoe Village neighborhood of Chicago.
One of the unusual things about this chapter is that they meet in the afternoon rather than early morning which is more suitable for some people. Also the meeting is held at Riverview Tavern a cool restaurant with a very good burger. I had the bleu cheese and mushroom with sweet potato fries. Salads and other stuff looked good too.
Thanks to my buddy, State Farm Agent, Sean Kingsbury of Logan Square for the invite.
If you want to learn about this new chapter and get in on the ground floor or learn about other BNI opportunities in the Chicago area contact Rachel Cherny who is the BNI Executive Director for Chicago at director@bnichicago.com
New Chicago BNI Chapter in Roscoe Village