Thanks to Vanessa Abron for presenting and conducting a first class event last night. Her workshop provided information on how to create a public relations campaign on a shoestring budget that attracted about 30 or more entrepreneurs, musicians and freelance service providers. Vanessa describes herself as a "media relations maven" and provided some insight into why it is important to build relationships with media writers and producers, and how she has personally uses her relationships to benefit her clients.
After a short definition of public relations Vanessa gave a description of how advertising and PR differ, which is primarily paid placement versus nonpaid placement. She was quick to point out that PR is not without its own costs which may include professional help such as she provides, as well as costs related to the execution of your campaign like communications materials, imprinted swag, and other products and services. A shoestring budget PR campaign might include social media, special events, personal appearances, as well as traditional media like newspaper, radio and TV.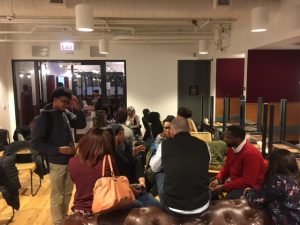 After the overview, we broke into groups and worked on a provided case study. I was on the Green Team who was tasked to come up with a social media campaign for our fictional Hip-Hop Performer client. Since I personally provide web video production services, I was happy to see that my team felt video – – specifically Youtube – – should be a key component of the social media campaign effort. One member was quick to point out that when using video on Facebook it is essential to upload the video to the FB platform to get further penetration then you would by simply supplying a Youtube link. A good tip. Video from our Hip Hop client might include performance clips but could also be behind the scenes videos with the performer and other personal connection clips. Another element included encouraging fans to pose with the performer at events and share the photos with their friends. After each group reported their ideas, Vanessa asked us to note how each of the categories crossover and support each other to create a full PR campaign.
The event was held at "WeWork" 20 West Kinzie which is a very cool shared office complex with a nice view of the city from the kitchenette gathering area on the 17th floor, complete with cold beer on tap. Vanessa arranged to have delicious salad-in-a-jar and cheescake in-a-cup for snacks and photographer Ven Sherrod was on hand to take head shots which could be purchased for a nominal fee.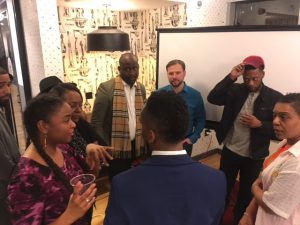 This was more of a workshop then a networking event so I did not have a chance to get business cards or contact info from many of the people I met including a very nice woman who is a fine artist currently working at ComEd. There was a guy who was engaged in some sort of student internship program which I wanted to learn more about. Had a nice chat with Kat Rothstein from Digital Pollen Collective who provides  an array of creative services
In my Green group was a nattily dressed real estate musician, another musician who I met in the elevator on the way up and massage therapist, Marcia Cutright, whose cheerful personality makes you feel better just by meeting her. Before the program I chatted with Trudi Gentry an account exec with iHeart Media, and my friend and UX expert Susan Barahia. In the elevator on the way out I met visual artist Joshua Taylor and barber, Brian Coleman of Gold Coast Barbershop at 100 E. Walton.
I want to give a final shoutout to Sandrel "Sanicole" Young who was on hand to video the event. She is also the writer and director of short film, "Side Effects" that can currently be seen on Comcast On-Demand.
Vanessa Abron has demonstrated through this event that she can deliver, when it comes to putting together a classy event on a shoestring budget. She also managed to assemble an interesting group of talented individuals. Visit VanessaAbron.com to learn more about her follow-up workshops and other services.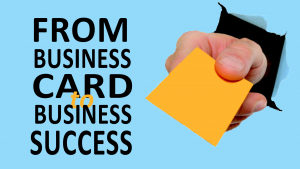 Shoestring PR Chicago | Vanessa Abron Workshop