One of the challenges of meeting a hundred new people and blogging about them is the time it takes to do the blogging, which I am bit behind on.  Today I would like to introduce you to Joe Baldwin who I met at a recent alternative transportation event at Uncommon Ground Restaurant on Devon in Chicago. Uncommon Ground has monthly ecofriendly events and great food. In 2009 I had the opportunity to present a networking presentation here to the Edgewater Chamber of Commerce.  A side bonus of attending this event was that I encountered and old friend (and his son), who I have not seen in about ten years. This is the other nice aspect of getting out and networking in person. You get a chance to meet new people and open yourself to the random possibility of reacquainting with lost contacts.
Joe Baldwin is an ecoartist working on his Master of Fine Art (MFA). His project is an artistic installation he has dubbed "mobile garden". The realization is a garden on a flatbed elevated train car attached to a random train and pulled around the city. The idea is to bring joy and an element of spontaneity to Chicago rapid transit riders. Joe tells me that this project concept elicits a good deal of strong reaction, which is an essential element of any work of art. It's whimsical but Joe hopes that the project will encourage people to think about nature in an urban environment. The CTA has approved the proposal under the condition that Joe's 501( c)(3) organization "noisivelvet" raise the $400,000 necessary to make it happen. You can learn more about this project at www.noisivelvet.com .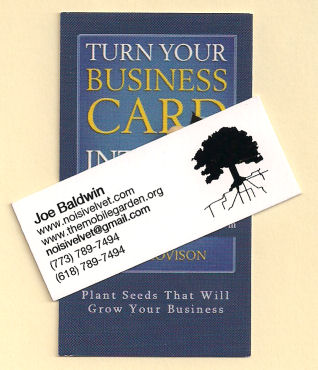 I would be remiss if I did not comment on Joe's marketing postcard and business card. Joe has one of those 7mm by 3mm business cards that I am not very fond of. These are popular with those who want to make the statement "This is a new card for a new generation" or "I'm a unique trail blazer with a hip different kind of card" or "I'm a non conformist". Any of which is fine with me but I maintain that a business card by definition is 2 inches by 3.5 inches. This is the space we must "conform" to. This is the challenge of business card design – – to be creative within a prescribed space. Why? Because it is practical. If people could start printing any size and call it a business card what would stop someone from printing an 8 by 10 inch business card? At this point they would become an impractical random lot of paper that would be hard to manage and they would loose their unique advantage of being uniform and convenient. IMO this is not the place to declare your individuality as you simply conform to a new proposed standard. Finally, sorry Joe but I must point out you are lacking a URL on your postcard. I think it is much more likely today that someone would go to your website and send a donation via paypal than send a check. I suggest you buy a nice ecofriendly rubberstamp and bottle of soy ink and rectify that situation ASAP!
Joe Baldwin person number 65 was fun, interesting and thought provoking. What do you think of this idea?